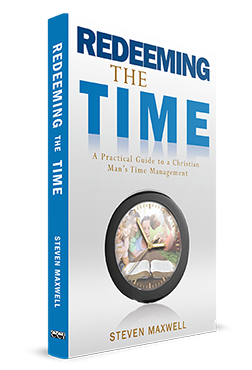 Product Description
Also available in download or CD audiobook. Most men today would say that they are under time pressure. In the midst of their busyness, there are key aspects of their daily lives that suffer such as their relationships with the Lord, with their wives, and with their children. They aren't keeping up with their normal responsibilities. They are tired, stressed, and struggling. Read a chapter.
Titus2 ministry founder, engineer, and CEO of two small businesses, Steve Maxwell has much experience in time management. He shares Biblical truths that will allow a man to gain control over the time pressures that he is facing. Steve discusses practical aspects of time management that put a man on a path to being able to keep up with the various demands on his time.
"It has really changed my life. I've got more time than I ever thought I would have." A dad
Over the years, Steve has had many interactions with men who are struggling to keep up with their responsibilities. He even addresses different work situations dads face such as working second shift, being in the military, and having changing work hours. In this book you will learn how it is possible to go from pressure, chaos, and stress to peace, order, and productivity.
Specifications
Weight:

9 oz

Width:

5.5 in

Depth:

0.5 in

Height:

8.5 in