SALE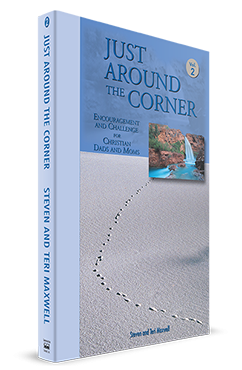 Product Description
This next volume of the Just Around the Corner continues encouraging parents in issues they face while they are raising a family!
Just Around the Corner: Encouragement and Challenge for Christian Dads and Moms, Volume 2, is a compilation of four more years of Steve and Teri Maxwell's monthly Dad's and Mom's Corners e-mail articles, which they have been writing since 1990.
The many topics include anger, prayer, contentment, dads as the leaders of their families, influencing children's spiritual outcome, parenting, homeschooling, husband/wife relationships, and much more! Encouragement is Just Around the Corner.
Specifications
Weight:

19 oz

Width:

5.5 in

Depth:

1 in

Height:

8.5 in