SALE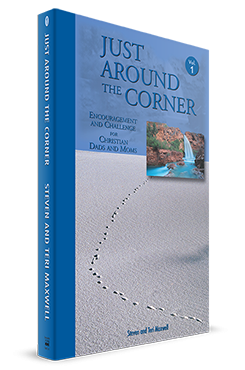 Product Description
If you order Volume 1 and 2 at the same time, they are only $5 each. See this link for our special of purchasing both together.
Do you need a little boost? Are you not sure where to go next? This book covers many many topics that will provide just what you need to go to the next step!
Just Around the Corner, Volume 1 is a compilation of several years' worth of Steve and Teri Maxwell's monthly Dad's and Mom's Corners in an easy-to-read book.
Topics addressed in this almost 400 page book include: anger, depression, child training, submission, homeschooling, husband/wife relationships, leadership, training children, husbands loving their wives, and much more!
Specifications
Weight:

19 oz

Width:

5.5 in

Depth:

1 in

Height:

8.5 in