SALE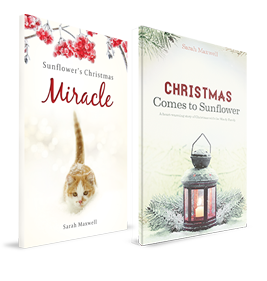 Product Description
Wholesome Christmas books are hard to find, but your search is over.
Sunflower's Christmas Miracle–Christmas is right around the corner in Sunflower, and life is full of surprises. Some good, some not. Mr. Gibson is at the root of them, but what can twelve-year-old Moses do? At the town hall meeting, Moses is proud to watch his older brother stand up against opposition, but the new piece of information is troubling. When their Christmas season turns into a crisis, can Moses handle what's before him?
 Christmas Comes to Sunflower–A surprise encounter at Sunflower's Post Office gives Mollie an idea. Christmas is a special time of year, and Max, Mollie, and Mitch are determined to bless Joey. Time is against them as they face multiple obstacles in their quest. Will they be able to make Joey's dream come true in time for Christmas?