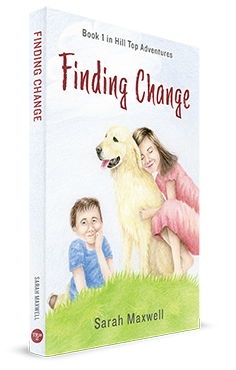 Product Description
You don't want to miss Sarah Maxwell's newest book for kids.
Ten-year-old Emma and her younger brother, Ethan, have just moved to the tight-knit community of Hill Top, which Emma hopes will be their home for a long time.
Adventure is right around the corner, and with Taffy, Emma's English Cream Golden Retriever, in the mix, there's never a dull moment. But trouble brews for Dad's job, and uncertain times shake their home. Meanwhile, Emma observes Mom and neighbor-girl Brooke's faith, knowing she doesn't have it.
The bake contest lures Emma to church, and she's flooded with memories of a tragic event and the bitterness it left. Emma again resolves that she will never ever forgive Aunt Nicole.
Ups and downs and twists and turns fill the pages of Finding Change until a dreaded visit by her aunt brings Emma face-to-face with the biggest decision of her life.
Order your copy now!
Geared toward: ages 7-11
Read aloud comprehension level: ages 6 and up
The book includes 9 full-page, gorgeous illustrations, making the story come alive!
4 reviews
Funny and exciting!
Our bellies were hurting with much laughter!
Taught me about forgiveness
This book reminded me to not hold my anger by asking God to forgive me.
I LOVE it!
A great book with lots of real-life situations!
Captivating!
This book could almost be called Zero Gravity,
 because I just can't put it down.