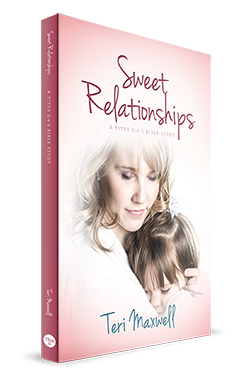 Product Description
Sweet Relationships, a Titus2 Bible Study
Sweet Relationships is a powerful Bible study on Titus 2:4-5. This book will guide you toward sweet relationships with those you love the most. Teri's personal writing style, intertwined with Scripture and study questions, practically breaks down these verses that are vital to Christian women.
Through this exciting book, you'll discover what it takes to be a Titus2 woman. How does one learn to treasure the most precious relationships the Lord has entrusted to us? What does it take to be a keeper at home? How does one learn joy in the midst of difficult circumstances? What does it mean to be discreet, or chaste, or good?
Our children want to hear the love in our hearts spoken through our words, communicated via our attitudes, and expressed on our faces. In addition, our husbands need to feel loved and respected. It thrills Teri (mom to eight, grandma to seven, and wife to Steve for forty years) to share with other Christian ladies how to practically attain this.
This is a hands-on book that has Bible-study questions interspersed throughout the text, allowing space to write your answers. At the end of each chapter, you'll find homework assignments. It's a perfect individual Bible study, mother-daughter study, friend-to-friend study, or large-setting group study.
Come and join Teri in this journey to sweet relationships! You won't want to miss it!
Sweet Relationships has been a huge benefit in my life. I needed each chapter. It is such an encouragement to me. A mom
2 reviews
Another winner from Teri
Teri, what richness within these pages. God is using it in so many ways in my life.
I needed each chapter!
Sweet Relationships has been a huge benefit in my life. It is such an encouragement to me as a stay at home wife and homeschooling mom.
Specifications
Weight:

9 oz

Width:

5.5 in

Depth:

0.25 in

Height:

8.5 in