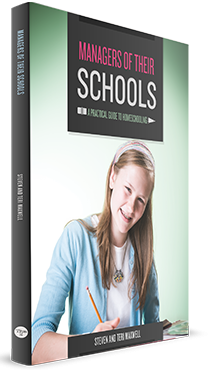 Product Description
Are you new to homeschooling and seeking relief from being overwhelmed with the myriad of decisions involved? Do you want confidence that your child will have a superior education and can do well in life? Are you a veteran, scorched by the flames of burnout searching for a less exhausting way? Do you simply want to avoid the high cost of throwing money away with each new curriculum change?
Managers of Their Schools is a practical, how-to-homeschool, confidence-building book, written by homeschool parents with thirty years of experience. They can help you sleep peacefully each night knowing that your children are learning and being well-prepared for life. Their five sons are now earning excellent incomes, and they also purchased their homes debt-free. Is that the sort of preparation for life you want for your children?
Steve and Teri, life-long learners themselves, share their research, biblical basis, and what they found to be the most time-efficient, results-producing approaches for their homeschooling family of eight children. You'll feel like you're sitting down with Teri for a time of sweet fellowship as she shares how to streamline your homeschool. Wouldn't you like to learn from Steve and Teri's experiences?
"Our homeschool was high-maintenance, high-prep, and greatly demanding of me. I was in a constant state of being overwhelmed and exhausted. A few times I wondered if I could keep homeschooling!! It remained this way for almost 4 years–until a month ago!! I've read and re-read Managers of Their Schools, marking, highlighting, and making notes. We all feel like peace has returned to our home and our relationships, and my children have never been more content in our homeschooling journey!" A now-excited mom
Steve and Teri spent their first twelve years of homeschooling searching for a method that met their Scriptural and educational criteria. They finally began using Christian textbooks. They were thrilled to see that Teri was no longer stressed-out due to the workload required by several previous curriculum approaches, and happily, they have never wanted to change direction again.
In this book, Steve and Teri share the benefits their family has gained from using textbooks. They review other methods and how textbooks favorably compare with them. There is a chapter written by four of their adult children sharing some of their homeschool thoughts, particularly with regard to using Christian textbooks. One of the chapters is directed specifically to dads and another one to moms. The appendix of Managers of Their Schools includes ten of their school schedules, assignment sheets, a listing of the school curricula and resources they use, plus coupon codes for discounts on some of them, and their reading criteria.
Whether or not you choose the same method to home educate as they do, you will find a wealth of tried-and-true, daily-life homeschool information. Make your homeschooling journey easier, more efficient, and more joyful by learning from a family who has already walked the path. If stress can be replaced with peace and productivity why not begin now?
What's Included:
Assignment Sheets
School Schedules
Preferred Resources
Practical
Biblically based
Adult Children's Homeschool Testimonies