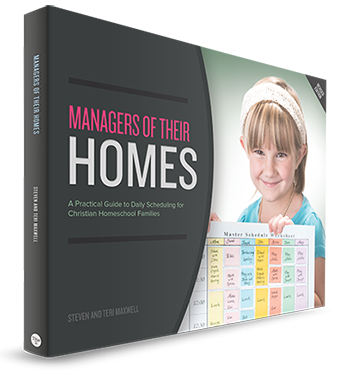 Product Description
Managers of Their Homes: A Practical Guide to Daily Scheduling for Christian Homeschool Families
What resource could be better than Managers of Their Homes to bring families peace and order? It has been the go-to resource for homeschooling moms for the past 20 years! Schedules ARE stress-busters, but you need the proper tools to make it that way. In Managers of Their Homes, you will discover practical help on planning and implementing your schedule despite the challenges you face. Can you imagine how wonderful it would be to go to bed each night, with the peace of mind that you accomplished what you wanted to each day?
"I have just implemented our first schedule this week. I am so happy and full of thanks. It is amazing how smoothly our household runs now and how much we are able to get done without fits from the children and threatening from me. I do believe that this is one way that the Lord is answering my pleas for more joy in our home."
"I don't make this comment lightly, but sincerely – Managers of Their Homes has changed my life more than any book ever, besides the Bible. You have taught me to make every minute of my day count, to spend each hour and day and year doing the things that God requires of me and to do them with a happy heart." Jatina
Managers of Their Homes: A Practical Guide to Daily Scheduling for Christian Homeschool Families sets a firm biblical foundation for scheduling, and presents the benefits you can realize. Chapter after chapter is filled with practical suggestions for efficient ways to schedule a homeschooling family's days. Thirty real-life schedules in the Appendix give valuable insight into creating a personalized schedule for your family. Also included is a special chapter by Steve for homeschool dads.
The included Scheduling Kit is a hands-on kit so you can design your family's daily schedule.
Will you join the tens of thousands who have moved from chaos, stress, and disorganization to peace, contentment, and productivity?
It doesn't matter whether you have one child or twelve, this book will allow you to manage your day. You can do it, and we will help you!
What's Included:
Managers of Their Homes book
Scheduling Kit (allows you to make your unique family's schedule) – Accommodates as many people in your family as you need it to.
Scheduling worksheets easily guide through the scheduling process
Color-coding simplifies setting up individual schedules
30 sample schedules of varying size families in the Appendix to give you helpful ideas.
Special chapter for Dads written by Steve
Listen to Teri share below about Managers of Their Homes.
How can I know scheduling works?
Teri has worked with thousands of moms over the past 20 years, and she can tell you from experience, scheduling works. Read her wealth of articles on the subject.
Specifications
Weight:

24 oz

Width:

11 in

Depth:

0.5 in

Height:

8.5 in