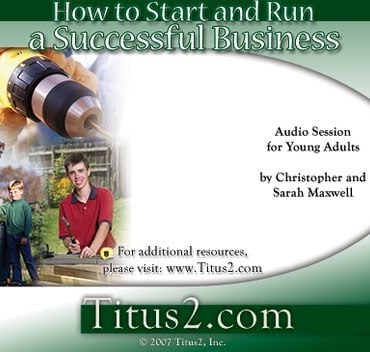 Product Description
Christopher and Sarah will encourage your children to "enroll" in the classroom of beginning and managing their own business. Starting and running a small business is an excellent opportunity to earn income while learning invaluable business and interpersonal skills.
The goal of an education is to prepare a young person for life, and a significant portion of life will involve business and vocation. Modern society has a roadmap to business: school, college, and then a life spent working as an employee. But many homeschooling families have caught a vision of industry and work based in Christ-honoring entrepreneurship.
Their session covers issues such as:
Are you prepared to start a business?
What is your relationship like with the Lord and your parents?
What type of business should you start?
What are the legal and tax ramifications?
What skills do you need and how do you acquire them?
You'll come away with specific ideas for your business and hopefully a big dose of motivation!
While this session's primary audience is young people, a number of parents have shared that they also benefited.
As a parent, if you haven't read the book Preparing Sons, we would strongly recommend you read that first. This session is a great compliment to the book and will hopefully inspire your children to use these years of their life productively as they prepare for their future.