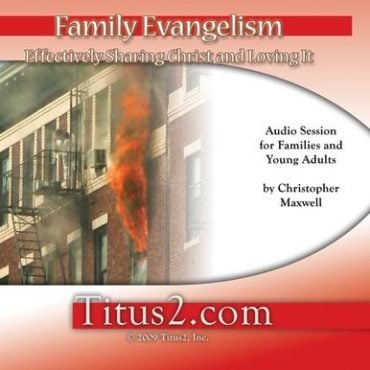 Product Description
This dynamic session is one we feel every family should listen to on the crucial subject of sharing the Gospel.
Family Evangelism—Effectively Sharing Christ and Loving It has the potential to change the way you witness. Eternity may be right around the corner for that checker who is ringing you up at Wal-Mart—are you doing everything you can to tell others about Jesus?
Targeted toward young people, Christopher talks in an easy-to-understand and motivational way. He gives a number of personal examples—both successes and failures in witnessing—that will demonstrate how anyone could be involved in evangelism!
Some of the areas that he covers are:
The personal foundation
3 keys to overcoming the fear of man
Hindrances that will destroy your effectiveness in witnessing
How to gently, and biblically, show someone his need of a Savior
How to respond to someone who is closed to the gospel
How to transition regular conversations to spiritual ones
Tips for how young people, from the safety and protection of their own home, can be safely sharing the gospel via the telephone with adults who are strangers